Filter by Category
Music & Dance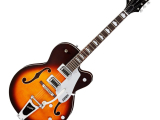 Beginning Guitar II
with Tom Hudgins

Oct 25, 2017 at 6:30 pm
A continuation of Beginning Guitar I utilizing techniques from the textbook and additional instructor material. Topics covered will include learning the basics of reading tablature, 12 bar blues and exercises from the second half of the textbook. Prerequisite: Completion of Beginning Guitar I or instructor permission. Tom Hudgins, is an artist/musician and adult educator who works with both art and guitar in his creative work. He has a Bachelors in Studio Art from the University of Maine and a Masters in Adult Education from the University of Southern Maine.
Country Line Dance
with Sue McKay

Nov 6, 2017 at 7:15 pm
No partner required - This fun line dance class will offer a variety of line dance steps and routines--done to all your favorite country songs and disco songs--that can go from classroom to dance floor in a flash! Clear instruction, step and combination breakdowns, and plenty of time to practice makes this class perfect for dancers who are brand new to line dancing as well as for those just hoping to learn a few more routines. This class is recommended for beginner through intermediate level dancers.
Swing & Waltz (Beginner)
with Chuck McKay

Nov 8, 2017 at 6:30 pm
, runs for 7 weeks
This course will teach the basics in the ballroom dance styles of swing and waltz. These dances are partner dances, so participants must register with a partner. This course will also teach timing, leading and following skills necessary to succeed in all partner dances. Each couple will progress at an individual pace. No previous dance experience is necessary. Sneakers are the recommended foot attire.
Participants must register with a partner.