Filter by Subcategory
Business & Skills Training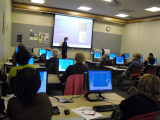 Microsoft Word, Intermediate
with Ralph White

May 3, 2018 at 6 pm

, runs for 4 weeks
Microsoft Word can be used for much more than word processing. This course will cover some of Word's features such as tables, text features, borders, graphics, lists, mail merges, and much more. Using these concepts, students will be able to create professional looking documents such as letters, resumes, cover sheets, and flyers. This class utilizes Microsoft Word 2010.
To enroll in enrichment classes, particpants must be at least 18 years old and not enrolled in school.
Registration Unavailable
Pharmacy Technician (online)
with Academy of Medical Professions
Work one-on-one with a Pharmacy Technician Trainer. The Pharmacy Technician is one of the fastest growing jobs in health care today. In this 14 week online course, you will learn everything from the role of the technician in the pharmacy setting, to the basic sciences at the core of pharmacy practice, to preparing for the PTCB exam. You will learn complete drug information that includes proper name, spelling and pronunciation, drug class, generic and trade name, route of administration, dosage and more of hundreds of drugs. You will be able to identify pills on sight with pill photos, gain a better understanding of how certain drugs work within the body with a concise review of relevant anatomy and physiology, and stay up to date with cutting-edge pharmacy practice with the latest information on new drugs, regulations, HIPAA guidelines and safety procedures. You will be ready to pass your PTCB national certification. All materials included in fee including National Certification exam fee. For more information, to register, or for payment plans, contact the Academy of Medical Professions at 1-866- 516-8274 or by email at info@academyofmedicalprofessions.com.