Filter by Category
History
50 People Who Made Bangor Great
with Richard Shaw

Oct 24, 2019 at 6 pm

, runs for 1 week
Since being settled in 1769, Bangor has seen more than its share of gifted residents. Best-selling authors have included Christina Baker Kline and Stephen and Tabitha King, while politicians Hannibal Hamlin, William Cohen and John Baldacci have stood in the national spotlight. Waldo Peirce and J. Normand Martin let their art do the talking, while broadcasters Bill Green and George Hale never seem to run out of story ideas. Educators Mary Snow and Lillian Wall broke the 20th century's glass ceiling, while musicians Dick Curless and Woody Woodman kept the Queen City singing. Longtime history seminar presenter Richard Shaw delves into his home town's past and present to showcase 50 personalities, including legendary lumberjack Paul Bunyan, to prove that people make a community as much as buildings and bridges. A related video will be screened in the seminar's second hour.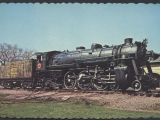 Restoration of Maine Central RR Locomotive 470
with Richard Glueck

Oct 10, 2019 at 6 pm
The last largest steam locomotive remaining in New England pulled its final trip on June 13, 1954. The 470 played a significant role pulling "The Bar Harbor Express" between 1924 and 1947. The New England Steam Corporation has purchased Maine Central 470, and is actively restoring it to service. Once operational, 470 will promote heritage tourism, enhance education, and expand economic growth. #470 wil bring the sound of the whistle back to Maine's towns and cities, reliving the experiences of steam railroading that have been missed by generations of Mainers. Join Richard Glueck as he shares details about the restoration of Maine Central 470.
Veazie Railroad
with Liz Ashe and Ronda Savage

Oct 9, 2019 at 6 pm
Two local historians, Ronda Savage and Liz Ashe, have brought the Old Veazie Railroad and it's history back to life with their informational Power Point presentation about this railroad that operated in the 1800s between Milford and Bangor. Their story depicts the history of how the railroad was built along with current shots of the remnants of what is left of the road. They have been sharing their trek locally with various audiences and received great reviews.