Filter by Category
Healthcare Training
Behavioral Health Professional Certification
with Woodfords Family Services
Our community is looking for individuals who want to make a difference in a child's life. Children's Behavioral Health Services are vital to Maine's children with Intellectual Disabilities, Autism and Mental Health Disorders and their families. The need in our area is great! As an integral part of the child's treatment team, a Certified Behavioral Health Professional (BHP) has the opportunity to make an immediate impact while helping a child grow and develop to their full potential. We are excited to connect our community to this wonderful ONLINE training program. The online training will equip you to help children who are receiving Behavior Health services. The training will prepare you for employment through local social services agencies. The program can be started at any time and finished at your own pace. You will complete 12 online modules then 3 4-hour live sessions, including the new ethics and boundaries training. Once the modules are completed, you will receive free online blood borne pathogen training and virtual First Aid & CPR training if you do not already possess those certifications. The entire training requirements will take about 45 hours. Registration is ongoing until June 30, 2021. Any individual who will be 18 years of age or older upon completion of the course may register. See Blended Learning Curriculum at Woodfords Family Service for more information.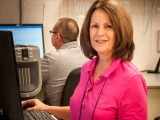 Online Registration Unavailable
Certified Medical Administrative Assistant
with Hilari Simmons
The Certified Medical Administrative Assistant program prepares students for entry level employment in a medical office. Upon successful completion of the program, students will be eligible to sit for the National Healthcareer Association's Certified Medical Administrative Assistant exam. Participants may be eligible for financial assistance through the Career Center. Call 207.992.5522 for information about upcoming classes.
Online Registration Unavailable
Certified Nursing Assistant
with Beth Boutot
This is a great class for entry level employment in the medical field. Bangor Adult & Community Education holds C.N.A. classes at various times throughout the year. Call 207.992.5522 for information about upcoming classes.