Filter by Subcategory
Personal Enrichment
Registration Unavailable
Stocks: The Nuts and Bolts
with John Byrne

Sep 16, 2019 at 6 pm
This educational program shares basic information to help evaluate how stocks may fit into an overall strategy. We'll discuss and review common versus preferred stock, dividends, investment strategy and different ways to own stock. Course fee may be paid the night of the course.
To enroll in enrichment classes, participants must be at least 18 years old and not enrolled in school.
Veazie Railroad
with Liz Ashe and Ronda Savage

Oct 9, 2019 at 6 pm
Two local historians, Ronda Savage and Liz Ashe, have brought the Old Veazie Railroad and it's history back to life with their informational Power Point presentation about this railroad that operated in the 1800s between Milford and Bangor. Their story depicts the history of how the railroad was built along with current shots of the remnants of what is left of the road. They have been sharing their trek locally with various audiences and received great reviews.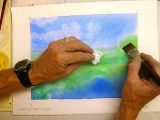 Watercolor Painting
with Carolyn Wallace-Zani

Sep 11, 2019 at 6 pm
Learn how to create beautiful paintings using your imagination and your watercolor palette! While this class is designed for the beginner, who has been working in watercolor for less than 5 years, the emphasis is on learning the basics through practice as an ongoing process. The former student will have the opportunity to develop more confidence by perfecting their current skill level, while the more experienced student will explore their personal style. Class exercises include: color theory, color wheel, color mixing, pigment properties, various watercolor techniques, and choosing materials. Learn how, when, and why in choosing various: watercolor papers, brushes, pigments, and techniques to achieve the results you want in your paintings. Demonstrations, group critiques, and independent exercises will further enhance your learning experience. No previous experience is necessary.Carolyn Wallace-Zani is the owner of Main Street Studio and maintains her studio in Brewer, Maine. She has conducted drawing and painting workshops for children and adults for over 40 years. Her original work and prints are in both private and cooperative collections. She recently completed a course of study in Natural History Illustration in conjunction with the University of New Castle, Australia. Her work has been displayed in Augusta, Maine at the Capitol as part of the Maine Arts Commission's Art in the Capitol Summer program, is also in the permanent art collection at Eastern Maine Community College, Bangor Maine, the recipient of numerous First Place Awards regionally including the Bangor Art Society's Member's Show "Best In Show" Award 2019 for her Plein Air work.
WATERCOLOR PAINTING SUPPLY LIST: Items with an * will be used the first class.
*#2 graphite pencil (HB-regular type school pencil)
12" ruler (preferably clear)
*140lb. acid free cold-pressed watercolor paper/pad (size 9"x12")
(1) # 6 Fan Synthetic Blend Watercolor Brush (optional)
(1) ½" Synthetic Blend Watercolor Mop Brush (optional)
(1) #10 Round Synthetic Blend Watercolor Brush
(1) #10 Flat (Wash) Synthetic Blend Watercolor Brush
* Package of assorted watercolor brushes: I use Royal & Langnickel RSET 9306 Medium Gold Taklon Brushes will be discussed the first class. Also, bring what you already own.
*Palette for mixing colors (12" white paper/plastic picnic plates are fine, plain or divided)
*(2) two containers to hold your water (plastic cups or coffee cans are fine)
Small blow-dryer (to dry your paper before leaving class if necessary)
Watercolor palette (optional for storing squeezed out colors, to be discussed later)
*Tube Watercolor Pigments: *French Ultramarine Blue *Cobalt Blue or Cerulean Blue *Burnt Sienna Burnt Umber *Cadmium Yellow *Lemon Yellow Phthalogreen Sap Green (Optional) *Cadmium Red *Permanent Alizarin Crimson Liquid Masking Fluid
*Board/Support/Painter's Tape (to secure/tape down your watercolor paper)
Old toothbrush Small spritz bottle Color Wheel
Pre-Class Homework: begin collecting pictures, notecards, and paintings of your favorite watercolor artists. Bring these to class for reference and discussion.